At the last Executive Committee Meeting the TAWLS 50th Anniversary Logo was unveiled.
Look for products displaying the celebration logo at the TAWLS On-line Store in February!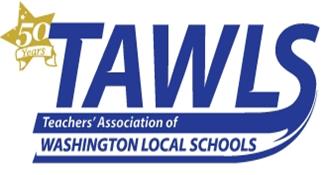 Rhino Alerts is now available. TAWLS has subscribed to the system in order to alert members, via text messaging or email, regarding important TAWLS events and school or district closings.
In order to subscribe to these alerts, please complete the following:
1.

     

Go to

www.rhinoalerts.com

2.

    

Find Lucas county and click on it

3.

    

Click on "TAWLS"

4.

   

Click on "Subscribe to alerts"

5.

    

Fill in your name

6.

    

Do not

fill in anything for subscription expiration date

7.

    

Choose whether you would like text, email, or both type of alerts and fill in the proper information.

8.

    

Once you have completed all the information, click the "COPPA Compliant" box and then subscribe.
Once you have been added to the alert system, you will receive a message (text, email, or both) that comes from tawlsofficers@gmail.com indicating that you have been added.